Canon EOS Rebel XTi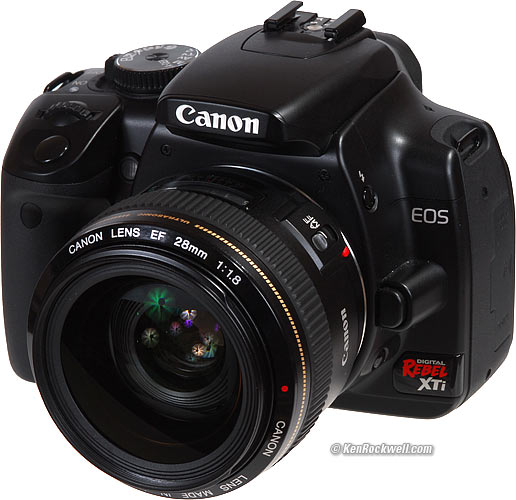 After stumbling upon an article on creating your own bokeh I followed a link to a contest involving trading a piece of equipment with a friend and reviewing it. I love my Nikon D60 but I had never really tried anything else that I could compare it to, so I decided this was my chance. My friend who in a way introduced me to DSLRs was the first person that came to mind, she has a Canon so it would be a perfect trade. She agreed right away and we decided to trade my Nikon D60 and 18-55mm kit lens with her Canon Rebel XTi and 50mm f/1.8 lens.
When I first got my hands on the Rebel XTi I noticed it was a bit heavier then the D60, it felt nice and sturdy. I had held this camera before but it still seemed very unfamiliar. We agreed that it would be a good idea if we wouldn't help each other at all at first for a more realistic "first impressions" experience. Since I almost always shoot in manual with my camera I immediately turned the dial to "M."

My first picture with the camera. (above)

At first sight
The shutter speed dial was very easy to find, right next to the shutter release. Just like my Nikon in order to change the aperture one must hold a button and turn the shutter speed dial. Turning the dial on its own is quite easy, however when I press the aperture button and try to turn the dial it becomes much harder. It seems like the positioning of the aperture button could have been better, the dial could also be worn from so much use.
Other shooting options such as ISO, white balance, metering mode and auto focus options all have their own button and I found were very quick and easy to change compared to my Nikon were I had to go in to a menu to change most of these. There is also a sensor by the view finder which turns off the display when you put your eye up to the view finder. Another very useful function that is also very easily accessible is the picture style button. This gives you access to 6 different picture styles, each with different contrast, saturation, sharpness and color tone levels. It also gives you 3 user defined styles that you can set in the menu.
Focusing
I have always liked to focus manually in my pictures, when shooting at f/1.8 this becomes very hard. Due to the shallow depth of field it is quite hard to find that sweet spot. I found right away that the pictures taken with AF on were much sharper than those taken with manual focus. This is ok because even though the autofocus system is very frustrating at first, it is very fast and precise once you learn how to use it. This
frustration does return for low light situations where it will often lock, forcing you to either switch to manual or turn on a light. This however has an easy solution, when you turn on the flash this camera has an AF assistant beam. You can turn on the flash, use the beam, and close the flash while still holding the shutter release halfway. Snap and you have yourself a focused picture! Something else I noticed about this auto-focus system is that it is awfully loud.
There are many benefits of having such a shallow depth of field. It is great for portraits since it easily blurs out the backgrounds, this draws your eyes to the person rather than the background. This also allows you to create excellent bokeh.
Other thoughts
The 50mm f/1.8 is very sharp; as long as you keep it in focus it will add great detail to your pictures. This works very well for close-ups and portraits of any kind. This is also complimented by the low amount of noise that the Rebel XTi has. Even at ISO 1600 the grain is hardly noticeable. The low aperture also allows for excellent amounts of light to be captured, in most situations I only needed ISO 800. These elements allow you to shoot at a relatively high shutter speed which is very nice, I would much rather have a little grain than a blurry picture.
Overall this allows for very good quality pictures for a DSLR of this caliber. I would definitely recommend this set up for any armature photographer. It is great for low light, concerts, portraits, and every day shooting. Once you learn your way around the camera, get over the picky focusing and learn how to use the auto-focus, this camera can turn out some very sharp images.
For more picture from this project visit my Flickr set for this project.